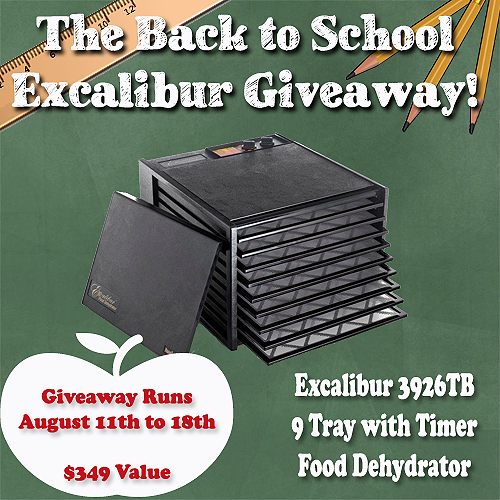 As most of you probably know it is Back To School time!
What is better than an Excalibur 9 Tray Dehydrator with a timer? Our gardens or farmers' market are in full swing ready to provide the produce so we can dehydrate most fruits and vegetables as desired.
The kids will be heading back to school, if they haven't already and would love to have goodies to take with them. Some of our kids are home-schooled, but either way, lets get dehydrating some fruits, vegetables, meat or herbs.
Win an Excalibur Dehydrator
This giveaway is open to any resident 18 years of age or older living in the 48 Continental US States.
The giveaway starts on Aug. 11th at 5:00 am (MDT).
We will choose a winner at the end of the giveaway on Aug. 18th, 2014 at 5:00 pm (MDT).
We will email the winner that is chosen and they will have 24 hours to respond to the email sent to them.
If after 24 hours we do not hear from said winner, another winner will be chosen. Thanks again for entering and good luck to all!
If your name is chosen as the winner what would be the first items you would like to dehydrate?